Kia Sportage QL: Owners and Service manuals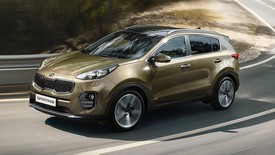 The Kia Sportage has never been one for small evolutionary changes. Originally a cheap, poorly made penalty box, today's Sportage is a stylish, well-rounded compact crossover. Redesigned for 2017, the Sportage is now in its fourth generation. The current model builds on the strengths of its predecessor, while offering increased rear passenger room, increased cargo space and improved ride quality. We'd steer buyers clear of the first two generations of Sportage, but the third-gen model makes for a solid, if slightly cramped, used-car choice. Thanks to excellent build quality and stronger performance, the current model is the most appealing Sportage yet.
Now entering its fourth-generation, the new Kia Sportage compact SUV builds comprehensively on the success of the outgoing model, offering an innovative and sophisticated package to buyers in an increasingly competitive market. The new-look interior features high quality materials and design integrity, as well as great practicality and a range of technologies to improve comfort, convenience, connectivity and safety. A range of new and updated engines and transmissions will result in enhanced efficiency and performance, while ride, handling and refinement are all improved.