Kia Sportage: Electronic parking brake (EPB) / System warning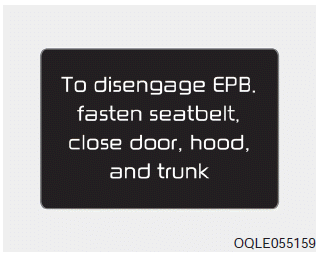 If you try to drive off depressing the accelerator pedal with the EPB applied, but the EPB doesn't release automatically, a warning will sound and a message will appear.
If the driver's seat belt is not fastened and the engine hood, driver's door or trunk is opened, a warning will sound and a message will appear.
If there is a problem with the vehicle, a warning may sound and a message may appear.
If the above situation occurs, depress the brake pedal and release EPB by pressing the EPB switch.
WARNING - Parking Brake Use
All vehicles should always have the parking brake fully engaged when parked to avoid inadvertent movement of the car which can injure occupants or pedestrians.
A click or electric brake motor whine sound may be heard while operating or releasing the EPB, but these conditions are normal and indicate that the EPB is functioning properly.
When leaving your keys with a parking lot attendant or valet, make sure to inform him/her how to operate the EPB.
The EPB may malfunction if you drive with the EPB applied.
When you automatically release EPB by depressing the accelerator pedal, depress it slowly.