Kia Sportage: RCTA (Rear Cross Traffic Alert) / Operating conditions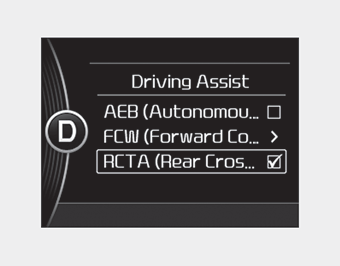 Select RCTA (Rear Cross Traffic Alert) in "User Settings" under "Driving Assist" on the instrument cluster. The system will turn on and standby to activate.
Select RCTA again, to turn the system off.
If the vehicle is turned off, the RCTA system will remember the last settings upon restart. Always turn the RCTA system off when not in use.
The system operates when the vehicle speed is below 7 mph (11 km/h) with the shift lever in R (Reverse).
The RCTA (Rear Cross Traffic Alert) detecting range is 1.6 feet ~ 65 feet based on the side direction. If the approaching vehicle speed is 2.5 mph (4 km/h) ~ 22 mph (36 km/h) within sensing range, it is detected. However, the system sensing range can vary based on conditions. Always pay attention to your surroundings.