Kia Sportage: Engine compartment fuse replacement / Multi fuse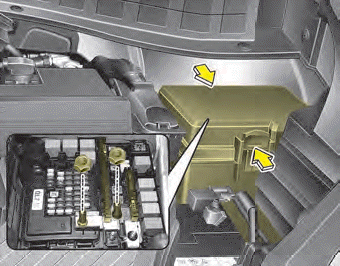 If the multi fuse is blown, it must be removed as follows:
1. Turn off the engine.
2. Disconnect the negative battery cable.
3. Remove the nuts shown in the picture above.
4. Replace the fuse with a new one of the same rating.
5. Reverse these steps to reinstall the multi fuse.
✽ NOTICE
Do not disassemble nor assemble the multi fuse when it is secured with nuts and bolts. Incorrect or partial assembly torque may cause a fire. Have the vehicle checked by an authorized Kia dealer.