Kia Sportage: Engine compartment fuse replacement / Main fuse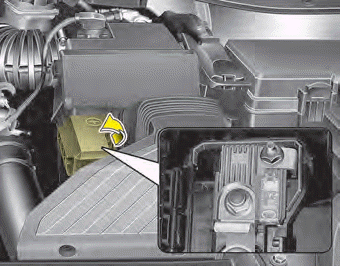 If the main fuse is blown, it must be removed as follows:
1. Turn off the engine.
2. Disconnect the negative battery cable.
3. Remove the nuts shown in the picture above.
4. Replace the fuse with a new one of the same rating.
5. Reverse these steps to reinstall the main fuse.
✽ NOTICE
The electronic system may not function correctly even when the engine compartment and internal fuse box's individual fuses are not disconnected. In such case the cause of the problem may be disconnection of the main fuse (BFT type), which is located inside the positive battery terminal (+) cap.
Since the main fuse is designed more intricately than other parts, have the vehicle checked by an authorized Kia dealer.
CAUTION
Visually inspect the battery cap to ensure it is securely closed. If the battery cap is not securely closed, moisture may enter the system and damage the electrical components.