Kia Sportage: Maintenance / Air cleaner
Filter replacement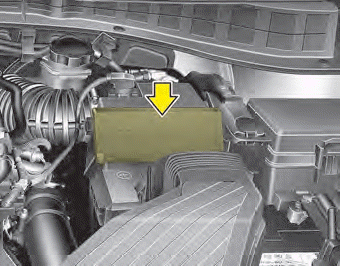 It must be replaced when necessary, and should not be washed.
You can clean the filter when inspecting the air cleaner element.
Clean the filter by using compressed air.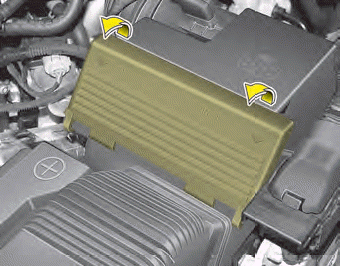 1. Pull out the air cleaner cover.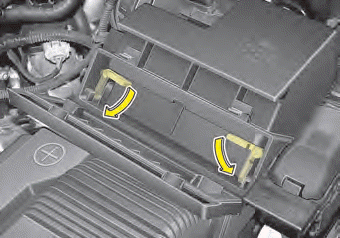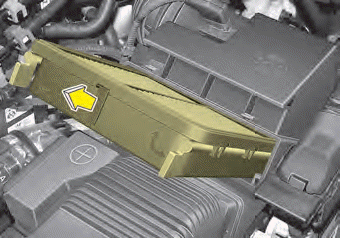 2. Unlock by turning the locking lever downward.
3. Pull the air cleaner filter to replace.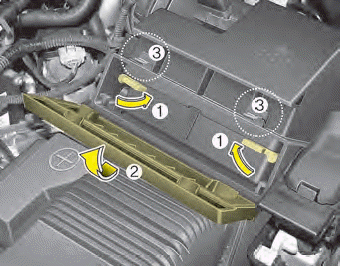 4. Pull up the lever (1) to the LOCK position.
5. Rise up the cover (2) until the hooks on the cover are securely fastened into the latches (3).
6. Check if the cover is firmly installed.
Replace the filter according to the Maintenance Schedule.
If the vehicle is operated in extremely dusty or sandy areas, replace the element more often than the usual recommended intervals. (Refer to "Maintenance under severe usage conditions" in this chapter.)
CAUTION - Air filter maintenance
Do not drive with the air cleaner removed; this will result in excessive engine wear.
When removing the air cleaner filter, be careful that dust or dirt does not enter the air intake, or damage may result.
Use a Kia genuine part. Use of a non-genuine part could damage the air flow sensor.