Kia Sportage: Mirrors / Programming
Your vehicle may require the ignition switch to be turned to the ACC position for programming and/or operation of HomeLink. It is also recommended that a new battery be replaced in the hand-held transmitter of the device being programmed to HomeLink for quicker training and accurate transmission of the radiofrequency.
Follow these steps to train your HomeLink mirror: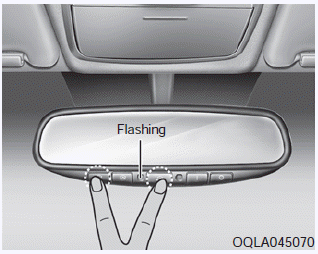 1. When programming the buttons for the first time, press and hold the left and center buttons (

,

) simultaneously until the indicator light begins to flash after approximately 20 seconds. (This procedure erases the factory-set default codes. Do not perform this step when programming the additional HomeLink buttons.)
✽ NOTICE
For non rolling code garage door openers, follow steps 2 - 3.
For rolling code garage door openers, follow steps 2 - 6.
For Canadian Programming, please follow the Canadian Programming section.
For help with determining whether your garage door opener is non-rolling code or rolling code, please refer to the garage door openers owner's manual or contact HomeLink customer service at 1- 800-355-3515.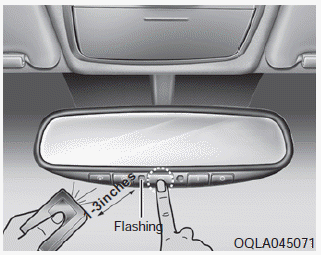 2. Press and hold the button on the HomeLink system you wish to train and the button on the transmitter while the transmitter is approximately 2-8 cm (1 to 3 inches) away from the mirror. Do not release the buttons until step 3 has been completed.
3. The HomeLink indicator light will flash, first slowly and then rapidly. When the indicator light flashes rapidly, both buttons may be released. (The rapid flashing light indicates successful programming of the new frequency signal.)
✽ NOTICE
Some gate and garage door openers may require you to replace step #3 with the "cycling" procedure noted in the "Canadian Programming" section of this document.