Kia Sportage: Exhaust Emission Control System / CVVT (Continuously Variable Valve Timing) System Description and operation
Continuous Variable Valve Timing (CVVT) system advances or retards the valve timing of the intake and exhaust valve in accordance with the ECM control signal which is calculated by the engine speed and load.By controlling CVVT, the valve over-lap or under-lap occurs, which makes better fuel economy and reduces exhaust gases (NOx, HC) and improves engine performance through reduction of pumping loss, internal EGR effect, improvement of combustion stability, improvement of volumetric efficiency, and increase of expansion work.
Electric E-CVVT system is electric continuous variable valve timing system. It is located on the intake camshaft of the engine and uses motor rotation to control the rotation angle of camshaft relative to the rotation of crankshaft regardless of engine pressure. E-CVVT controls the DC motor current (duty signal) to more closely control the system compared to the previous pressure type, to increase reaction speed of cam, to improve startability, and to reduce the emission of exhaust gas. Also, operation range of intake valve (valve opening angle) is expanded. So, the output and fuel efficiency are improved.
This system consist of the CVVT Oil Control Valve (OCV) which supplies the engine oil to the cam phaser or runs out the engine oil from the cam phaser in accordance with the ECM PWM (Pulse With Modulation) control signal which measures the engine oil temperature, and the Cam Phaser which varies the cam phase by using the hydraulic force of the engine oil. The engine oil getting out of the CVVT oil control valve varies the cam phase in the direction (Intake Advance/Exhaust Retard) or opposite direction (Intake Retard/Exhaust Advance) of the engine rotation by rotating the rotor connected with the camshaft inside the cam phaser.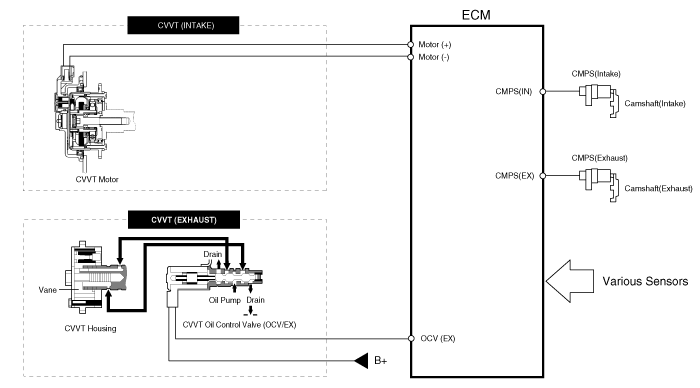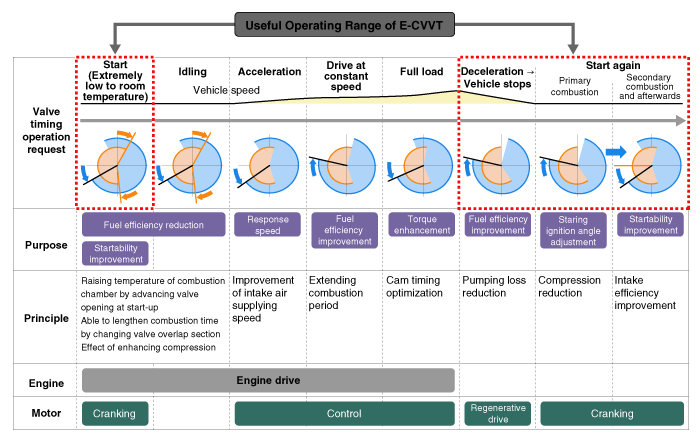 The CVVT has the mechanism rotating the rotor vane with hydraulic force generated by the engine oil supplied to the advance or retard chamber in accordance with the CVVT oil control valve control.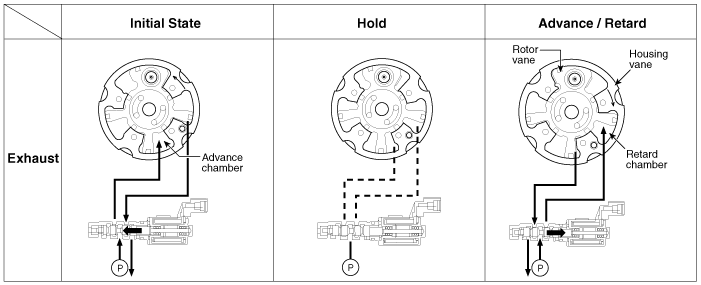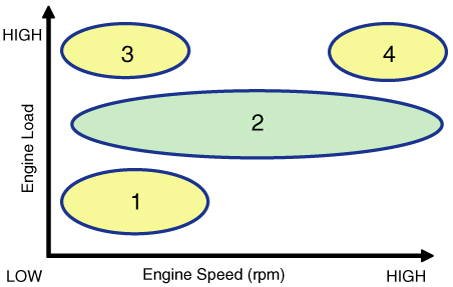 | | |
| --- | --- |
| (1) Low Speed / Low Load | (2) Part Load |
| | |
| (3) Low Speed / High Load | (4) High Speed / High Load |
| | |
Driving
Condition

Exhaust Valve

Intake Valve

Valve Timing

Effect

Valve Timing

Effect

(1) Low Speed/Low Load

Completely
Advance

* Valve Under-lap

Completely
Retard

* Valve Under-lap

* Improvement of combustion stability

* Improvement of combustion stability

(2) Part Load

Retard

* Increase of expansion work

Retard

* Reduction of pumping loss

* Reduction of pumping loss

* Reduction of HC

(3) Low Speed/High Load

Retard

* Increase of expansion work

Advance

* Prevention of intake back flow (Improvement of volumetric efficiency)

(4) High Speed/High Load

Advance

* Reduction of pumping loss

Retard

* Improvement of volumetric efficiency