Kia Sportage: Brake system / AUTO HOLD
The Auto Hold maintains the vehicle in a standstill even though the brake pedal is not depressed after the driver brings the vehicle to a complete stop by depressing the brake pedal.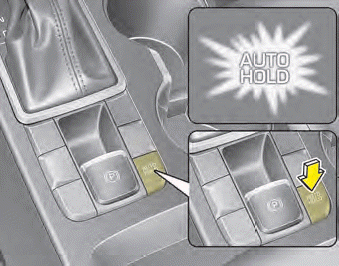 1.Depress the brake pedal, start the engine and then press the Auto Hold button. The white AUTO HOLD indicator will come on indicating the system is in standby.
Before the Auto Hold will engage, the driver's door, engine hood must be closed and the driver's seat belt must be fastened.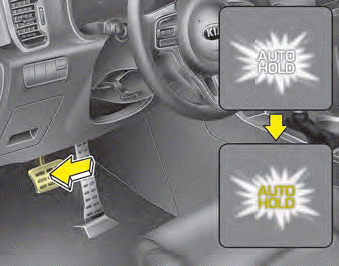 2.When coming to a complete stop by depressing the brake pedal, the AUTO HOLD indicator changes from white to green indicating the AUTO HOLD is engaged and EPB is applied. The vehicle will remain at a standstill even if you release the brake pedal.
3.If EPB is applied, Auto Hold will be released.
4. If you press the accelerator pedal with the shift lever in D (Drive) or manual mode, the Auto Hold will be released automatically and the vehicle will start to move. The indicator changes from green to white indicating the Auto Hold is in standby and the EPB is released.
When driving off from Auto Hold by depressing the accelerator pedal, always check the surrounding area near your vehicle.
Slowly depress the accelerator pedal for a smooth launch.