Kia Sportage: Automatic transaxle operation / Shift lock system
For your safety, the automatic transaxle has a shift lock system which prevents shifting the transaxle from P (Park) into R (Reverse) unless the brake pedal is depressed.
To shift the transaxle from P (Park) into R (Reverse):
1.Depress and hold the brake pedal.
2.Start the engine or turn the ignition switch to the ON position.
3.Move the shift lever. If the brake pedal is repeatedly depressed and released with the shift lever in the P (Park) position, a chattering noise & vibration near the shift lever may be heard. It is a normal condition.
WARNING - Shifting from park
Always fully depress the brake pedal before and while shifting out of the P (Park) position into another position to avoid inadvertent motion of the vehicle which could injure persons in or around the vehicle.
Shift-lock override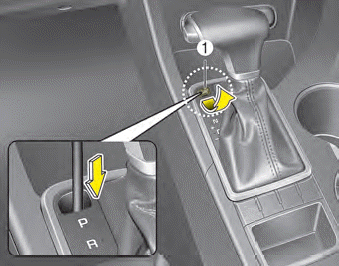 If the shift lever cannot be moved from the P (Park) position into R (Reverse) position with the brake pedal depressed, continue depressing the brake, then do the following:
1. Place the ignition switch in the LOCK/OFF position.
2. Apply the parking brake.
3. Carefully remove the cap (1) covering the shift-lock release access hole.
4. Insert a tool (e.g. flathead screwdriver) into the access hole and press down on the tool.
5. Move the shift lever.
6. Remove the tool from the shiftlock override access hole then install the cap.
7.We recommend that the system be inspected by an authorized Kia dealer.